JOIN US JUST A STEP AWAY FROM OXFORD
Peach is a collection of really great pubs, mainly in market towns in the heart of England. The Fishes is an imposing Victorian building set in acres of wooded grounds leading down to the banks of Seacourt Stream. As a quality gastropub, we serve great ingredients and fresh, honest food in relaxed, welcoming surroundings, always with a kind word and a sense of fun. Today we have twenty one pubs in lovely towns and villages, and an undimmed devotion to Making life Peachy. We have always been passionate about giving back and as we've developed and grown over the years, our ability and motivation to make the world a little better, a little peachier, has grown with us. The Bigger Peach shows our efforts to improve communities, equality in the workplace, and the future sustainability of our world. Our achievements were recognised in 2022, when we won Best Sustainable Pub Company at the Publican Awards, and we're also three star accredited by the Sustainable Restaurant Association. 
Soak up the sun, atmosphere and beautiful views from the deck whilst enjoying a bite to eat, a cocktail, or a glass of award-winning wine from our drinks list. We serve food all day and children are welcome to enjoy smaller portions of any of our dishes, or ask to see our children's menu. We take huge pride in serving the best ingredients we can find, from ethical producers, freshly prepared by our chefs. We're dog friendly in our bar and outdoor areas, bring your furry friend and stop by soon. On our bar you'll find a great range of spirits, beers and softs, so whether you pop in for a drink, a business lunch or a special dinner, we promise you a friendly welcome. Find us here.
We look forward to seeing you soon!
The Fishes Team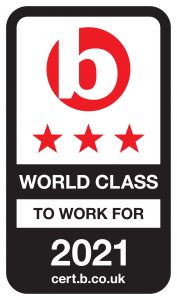 ---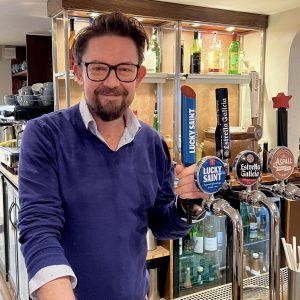 Sam King, General Manager
Growing up surrounded by foodies, Sam found his love for hospitality at the young age of 15 and has been pursuing it ever since. Originally from Hertfordshire, his early career started in London, working his way up from bartender to manager at top-end members clubs and prestigious nightclubs, such as Aura Mayfair and Amika. Sam joined us as General Manager of our newest pub at the time, The White Horse, before venturing on to become the Operations Manager for Cirrus Inns, and eventually purchasing a pub with his wife in Buckinghamshire, where they spent five successful years. 
Sam shares our passion for pubs, and when asked "Why Peach?" it was the fact that in the twelve years since Sam last worked with us, we have not wavered from our core values. We're really proud that our devotion to Making Life Peachy for our teams, guests and suppliers, means we have the opportunity to work with likeminded foodies. 
Sam's love for food and culture has taken him all around the world, with South America, especially Mexico, being a firm favourite. With its fantastic diving, diverse cuisine, and beautiful scenery, we can see why! On his days off, you can find Sam playing golf, trying out new foodie spots, or spending time with his wife Rachel and their dog Trigger.
---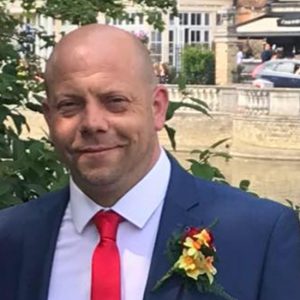 Roger Hayward, Head Chef
Roger grew up in Sudbury, a small town in the Derbyshire Dales. Aged nine, Roger discovered his love for cooking, spending weekends getting creative in the kitchen with his family. From that point on, Roger knew he was destined for a career in the kitchen. Since then, Roger has progressed very successfully as a Chef and says one of his biggest career highlights was working in the kitchens at the 2012 London Olympics. Since then, Roger has settled very well within Peach. He loves how invested Peach are in their teams both front and back of house, and sees the company as a great way to progress his career even further. On his days off, you'll find Roger spending quality time with his kids who are both big foodies and love to help out in the kitchen. Sounds like we've got future Peach chefs in the making!
---

Sian Lewis, POD Director
Hospitality, and making sure everyone is really well looked after, are in Sian's genes. From helping her grandfather run the family B&B in the glorious Pembrokeshire countryside where she grew up to studying travel and tourism at Pembrokeshire College. She moved on to manage the two Rosette restaurant at The Maynard, a beautiful boutique hotel in the Peak District National Park, and laying on fantastic foodie events.
Her next home was The Ferry Inn, a fine watering hole, and then its lovely sister pub The Boar's Head in Narbeth, offering good food and hospitality in equal measure. When it was time for a change, Sian went to Hampshire to become deputy at our own sister pub The Chequers in Eversley Cross, quickly helping this gorgeous village local make its mark, before taking on The Duke of Wellington to make it the best for miles around. Acorn Award winner, Sian, has now been appointed from General Manager to Pod Director for our Surrey and Oxfordshire pubs.