Bon appétit – we get Raymond Blanc's seal of approval
Gastronomic icon Raymond Blanc says The Fishes is one of his favourite places to eat in Oxford!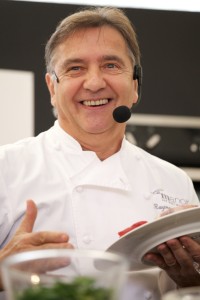 Monsieur Blanc, owner of Brasserie Blanc and Le Manoir aux Quat'Saisons was talking to Liz Nicholls of Round and About Magazine, about his memorable moments in food, things he can't live without in the kitchen and his top places to eat in the Thames Valley.
Acknowledged as one of the best chefs in the world, Raymond describes the moment he fell in love with food as a young student, walking by a restaurant and unable to resist the most incredible smell of cooking.  He ended up spending a small fortune on beef kidneys and a glass of Côtes du Rhône and life was never the same again!
Being a Frenchman, of course his favourite ingredient is garlic and when it comes to kitchen gadgets, it turns out that the humble pressure cooker is something he simply can't do without.  Not only does it save energy, it also saves cooking time, leaving him more time with friends and family.
When it comes to eating out locally, he says that The Fishes is one of his favourite places in the city.  How good is that?  We're delighted to get his seal of approval.  Merci beaucoup Raymond!
Read the full article here Round & About September 2015 and catch the great man in action at the Thame Food Festival on Saturday 26th September