10 Questions with Owain Jones – Peach People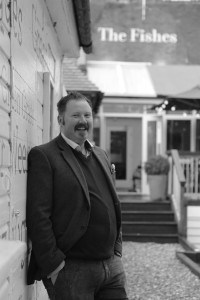 At Peach, it's not only the carefully sourced food and drink served in our beautiful pubs we care about, but the people that work for us too. If it wasn't for these Peachy People we wouldn't have a company to feel proud of. We strive to support our teams from the very beginning, helping them rise through the ranks to build a valuable career in hospitality. We've asked some of our Peachiest of people to shed some light on their time with us so far. Owain Jones, General Manager from The Fishes talks of his journey with Peach, who have inspired him along the way and where he sees himself going next.
Who in Peach has trained, mentored or inspired you and how has this helped in your career?
There are so many, obviously having been with the company for so long I have had so many inspiring mentors through this great company, as they say 'when the student is ready the teacher appears', and for every different development stage of my career a new teacher has emerged through Peach. From Frazer, Andrew Coath, Jo Eames, Trevor Blake, Ben Paul, Katie Robertson, Aimee Moore, Nat Cash, John Taylor, Jordan Marr, Paul Cutsforth, Michal Seferynski and Spencer Graydon to name a few. But probably if I had to be pushed to pick it would be Corin, Lee and Hamish. When I first started at The Fishes 8 years ago as a waiter, Corin instilled into me a love and passion for food, and showed me what hard work was, and that actually if I moved a little quicker I could actually make it in this industry. And because of him till the end of my days I will know that saffron is the stamen of a crocus flower. Lee has been awesome, he not only inspired me in a lecture at Oxford Brookes to get me to join the company, his constant drive and determination to be better is infectious. And finally there is Hamish, this man has been a great inspiration and mentor to me, and is always at the end of a phone, or an email or more likely a beer when needed. He really didn't have to invest so much time in myself and I am determined to pay him back for the work he has put into my career.  
Tell us about an accomplishment that you are most proud of in your Peach career.
Acorn award has to be up there, and getting rid of my little brother. But getting the Fishes back to its former glory has taken a lot of hard work and I am very proud of what we have achieved, but we aren't quite there yet and we have more to do to be absolutely epic. Also going to Kenya was out of this world, for a fat ginger welsh kid, I never imagined going to Kenya and Peach gave me that opportunity, sunstroke and 24hr malaria included it was THE greatest experience of my life, professional and personal.
What's your funniest story from peach?
I really can't say it's far too rude, and I'm not sure how legal what we did was, but all I know is that I don't have one funny story I have hundreds of these, pop in to The Fishes and I may tell you over a beer or two.
What awards have you won while at Peach or what awards would you like to go for?
I am an Acorn award winner, I know it's pretty awesome, so the next one would be something in the observer for The Fishes, and The Catteys one day for me.
What's your favourite Peach party memory?
No Comment!
Who has been your best catering training story and where are they now?
There are a few, but even though lots have worked with me their passion hard work and determination would have gotten them there if they had worked with me or not, not that they're training stories but I am exceptionally proud and chuffed that Michael Halbert and Rob Rowley Williams are where they deserve to be and I hope they didn't pick up too many bad habits from The Fishes!
How have you changed as a caterer from when you first joined Peach to now?
I'm now a professional. I started off thinking I knew the industry, what Peach gave me was understanding, composure, determination, passion and a business sense (which is still developing). I am now taken seriously rather than the joker I always was, Peach are slowly turning me into a businessman. And I am now used as a guest lecturer and mentor for future Oxford Brookes students which is so fulfilling and not something I ever could have dreamed of without Peach.
How has Peach get the best out of you? What support/training did you need to do this job and how did Peach help?
I needed everything!!
What are your career goals and how can Peach help you to get there?
I want my own business and peach are already putting plans in place to help me get there with mentoring from Hamish it is really exciting to be aiming for the stars and hopefully one day emulating what Peach have done.
What are the most important lessons you have learnt from Peach?
How to run a business, how to be a publican, how to be a restaurateur, and how to make a party. And how to have loads and loads of fun.
What advice would you give someone who was about to start there Peach career?
Have fun, be honest, and take advantage of this epic opportunity. Also give your liver a bit of a warning; it could be a rough ride for it over the next few years.
If you're intereting in joining our team, click here to find out more!