Cocktails!
 Everyone loves a good cocktail, so I thought it would be a good idea to teach you how to make them (with a little help!). Matt Simmonds, our resident bar master and all round great guy came in to show us all how to shake it, and shake it we did. Everyone got to make a couple of cocktails and sample a few too, we made mojitos with our lovely Havana Club Rum and sours with our Disaranno Amaretto, to name a few!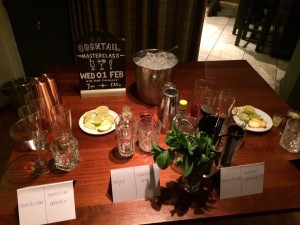 It's good to know we have a few potential future recruits should we need some more team in the summer! Massive thanks to Matt and a big thank you to everyone who came and got stuck in!
Keep your eyes peeled for the next masterclass – I'm thinking our tipi would make a great venue next time!