The Fishes Turn 10 In Style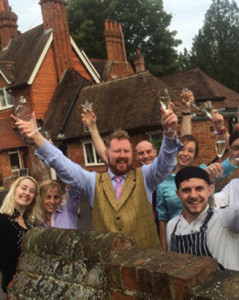 With my hangover finally cleared, I am sat here typing this with a great big smile on my face. It is safe to say that we celebrated the Fishes 10 year anniversary in style! As nobody could understand what I was saying on the night, I thought it best to take this opportunity to say another BIG thank you.
We would like to think that over the last decade, we have worked hard to carve out a special place for The Fishes in the local community and at the heart of the village.  The pub has gone from strength to strength, earned some amazing accoladesand been warmly embraced by all our loyal guests.
Over the years we've made some fantastic friends, many who live locally and many who walk, cycle, drive and sometimes row in boats to see us, and we love being their local.  We couldn't have weathered the storms – some literal, some figurative – without you and we'd like to say thank you to everyone who has supported us in all that time.
We've had a wonderful ten years here in North Hinksey and love being part of village life, and love being the only pub in the village!
The Fishes has genuinely played a big part in my life over the last 4 years and is more than just a place of work. It is somewhere where I have celebrated births, birthdays, weddings and christenings, and also been through hardships with our Fishes family. On a personal level, I would just like to thank everyone for sharing these moments with me and my Team.
We hope that everybody enjoyed the party and nobody felt too rough the next day. For those who couldn't make it, we have created a short video for you to enjoy a taste of the night's atmosphere. For those of you who could, perhaps this will help you piece together your evening! Click here to watch our party video! Enjoy…
By Owain Jones