Hooked!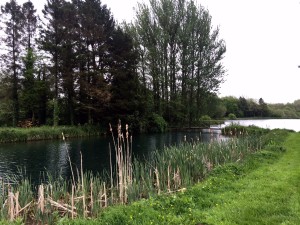 It was that time of year again for a bit of fly fishing! After a round of Bacon Sarnies (Noel had 3) and Coffees, off we went to a trout fishery in Salford, just outside Chipping Norton.
Two gorgeous lakes with jetties, and an island linked by a bridge, it was an ideal setting for a great day's fishing!
We were split into two groups and went off with our instructors Andy and Geraint, showed us how to become fly fishing professionals. I particularly liked Andy's technique of 'answer the phone, put down the phone'!

We were all given a spot to master our newly learnt skill, mine was just off the island next to the bridge where all the fish seemingly were – thanks Andy. We sat down to a case or two of Peroni at lunch, and some lovely Salads and Sandwiches courtesy of The Fishes kitchen.
The catch count was six by lunch, and admittedly a few of them might have been mine! The afternoon gave us more luck, and by the end of the day we had all caught a fish. I had caught four but again, that's not worth mentioning.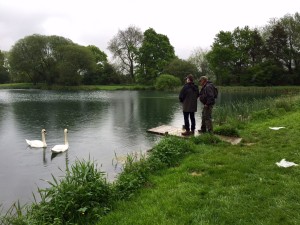 Back to the pub, we were served dinner of Sea bass, Monkfish and Lemon Sole, from Head Chef Mark. We drank long into the evening and debated over who had caught the largest fish – John Brett with a 2.5 pound whopper!
It was definitely, one of the best days I've had in a long time, I didn't even notice it had been pouring with rain all day.
Thanks to Andy and Geraint for an incredible days fishing. We'll be back!