Pork and Apple Night at The Fishes: Perfect for a bit of Peachy bonding!
The Peach marketing team met with our newest recruits recently, for a night of Hamishs' finest ice breakers, and an introduction to all things Peachy – all washed down with Chef's Andrew and Tim's best Pork and Apple concoctions (and a few Grand Gin's of course!)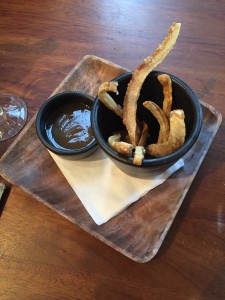 With a fantastic one off Menu fabulously explained by the lovely Tani, we kicked off with an amuse-bouche of Pork Crackling with Apple Dipping Sauce, a brilliant introduction to the delights that were to come!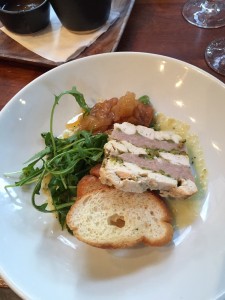 To start, we tucked into some epic creations. The first dish sampled was the beautifully layered Pork, Chicken and Pistachio Terrine, on a bed of Rocket Salad accompanied by Apple Chutney and perfectly crispy Crostini. Also on offer for those of us with a taste for the finer things; succulent pan fried King Scallops, a rich Ham Croquette, drizzled with Apple and Pear Puree – perfection!
After many indecisive 'umm's' and 'ahh's' main courses were finally agreed upon (Sorry Tani!). An event 3 way split. Numero uno – Pork Tenderlion stuffed with Drunken Honey Apples, Creamy Mash, Green Beans and a tangy Mustard Sauce. Numero dos – Slow Braised Pork Belly, accompanied by Boulanger and Apple Potato, Bok Choi, Monkfish Tails and a Cider Velouté.  Numero Tres – (perfect for the veggies) Caramelised Apple Risotto, Peas, Broad Beans, topped with a Golden Beetroot Carpaccio. The portions were ideal, and the Picpoul de Pinet an excellent pairing!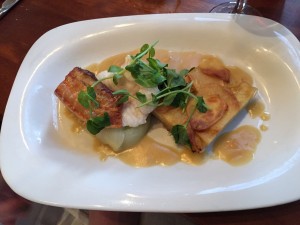 Dessert choice was a complete hat trick, with all members of the group settling on the Creamy Apple and Cinnamon Cheesecake, with homemade Honeycomb and Apple Crisps. It may have been a 'samey' choice from the group, but gosh was it worth it – a delicious blend of textures, which just melted effortlessly in the mouth.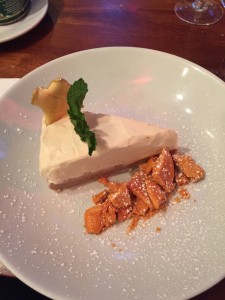 All in all, a perfect way for us newbies to begin our Peachy journey… Watch this space!
Why not join us for our next Pub Club Event? Be the first to sample the seasons dishes with our Summer Menu Tasting on the 2nd June £35pp including wine.