A spot of Fly Fishing!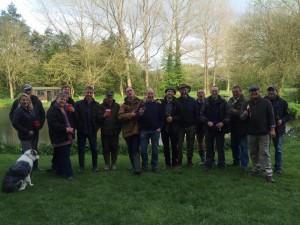 Well, we are back from another one of our BRILL away days, I know you REELY can't believe it but we caught a staggering 30+ trout. And you'll be HERRING about my fantastic catches for the foreseeable future. Yes it's true, I caught 2 Rainbow Trout and that proves anyFIN is possible, so if anyone would like any fishing tips just let MINNOW. And for those of you who took too long to MULLET over and didn't book in, next time don't leave it to SALMON else, make sure you book online on our events page. So I should DOLPHINately SCALE back on the fish puns now before this blog reads like a load of POLLOCKS, and is a TURTLE disaster.
Ok, that's enough of that. We would just love to thank everyone who came along to this great day, we had so much fun. We would also like to thank Purity Brewery, and Hook Norton who both supplied us with their incredible Mad Goose, and Old Hooky beers respectively.
The day started with a great free range Jimmy Butler Sausage and a strong coffee, then we jumped on the bus and we were off to Chipping Norton to the Trout Lakes. There our expert Fly Fishing instructors gave us an introduction to the world of fly fishing, and after a few pointers we were away.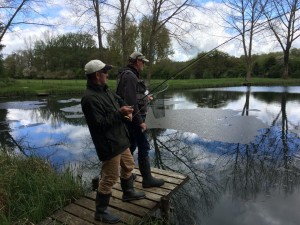 And 20 minutes after the first fly hit the water, Tanis Brookes was the first to get a bite, a beautiful brown trout which was then released back to the lake. Then the fish came flying in for everyone else, Ian, Keith, Adrian, Rob, Patrick and so on and so forth, but my fly floated lonely and untouched across the water.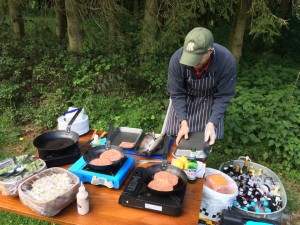 Then it was time for lunch, and our Head Chef Matt Rouvary gave our now keen fisherman and fisherwomen a filleting and gutting demo with our super fresh rainbow trout, and then proceeded to cook lunch for the team; trout for those who caught fish, and a burger for me.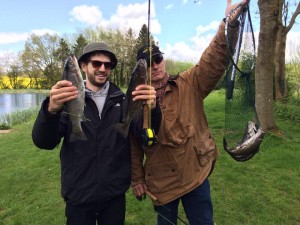 After a couple of Beers, and a delicious lunch we then hit the lakes again, and it was my time to shine……. 1 hour later my enthusiasm wasn't as high!! Still I watched as the others caught fish after fish and still my fly remained unharmed.
But with 10 minutes to go, Andy changed my fly and we were rocking and rolling, the first bite of the day followed imminently, and after a 5 minute battle, and some great work by Andy, I had landed my first ever fish.
Then 5 minutes later I landed again, then retired as a Fishing God.
After we were all done, we departed the lakes, with 30 odd trout in the cool box, and a few more empty beer bottles clinking away in the back.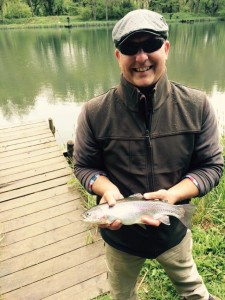 We arrived back to the pub and were welcomed back like heroes, talking of our catches, and those ones that got away, we had a brief prize giving for Ian's whopper and Tanis' early catch, enjoyed some delicious deli boards and went wearily home with our trophies in hand. What a great day.
To make sure you don't miss out on our awesome away days, please check out our events page for whats going on at The Fishes.