A riot of artistic colour in the garden
Our glorious garden was transformed into a fantastic outdoor art gallery once again this year as part of the Summer Oxford Art Fair on Saturday 8th and Sunday 9th August 2015.
More than 40 artists from across the county and beyond it brought their amazing artworks and created a display that was a riot of colour.  Art lovers – both those new to art as well as seasoned collectors – marvelled at the array of paintings, sculptures, ceramics, photographs, jewellery and antiques, snapping up some truly unique pieces.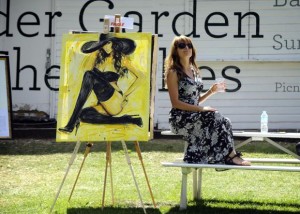 Among the artists was Dita Orumi from northern Albania, who describes her art as her "life priority", saying that she was inspired by fashion, photography and figurative arts.  She commented that, "Everyone seemed to be enjoying themselves in the sunshine and there were lots of people there."
We had a great weekend too!  The weather was wonderful, the garden a riot of colour and everyone was getting into the party spirit!  We even had some budding artists of our own painting their own creations!
Big thanks to everyone who came, to all the talented artists and to Joelle for organising.  Read more in the Oxford Mail here and in Oxfordshire Limited Edition July 2015. See you all next year!